Welsh Terrier Books
Welsh Terrier
Search for Dog Breed Books
Select Dog Breed
German Shepherd Dogs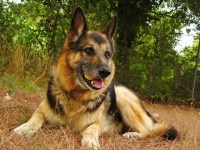 The handsome black and tan terrier of Wales, the Welsh Terrier is a smart and sensible member of the terrier family who offers owners charm and personality in abundance. Like their loyal, fearless hunting dogs, Welsh Terrier owners are strongly devoted to their happy, responsive dogs. For an experienced dog person, the Welsh is biddable and obedient, though, for the novice, the breed may be too bright (or stubborn) to handle. This is a practical companion dog looking for a like-minded owner to appreciate all his vistures. Welsh owners think as highly of their dogs as the dogs think of themselves! Blessed with a strong constitution and hardy health, the Welsh promises many quality years for the right dedicated owners. Written by long-time Welsh Terrier breeder and popular author Bardi Mc Lennan, this new Special Limited Edition offers an insightful look at the breed's history and origins, the Welsh's characteristics and breed standard as well as comprehensive coverage of puppy selection, care and training. All aspects of care are included in this new colorful volume, including house-training, grooming, feeding, home safety and healthcare. The book also presents a special chapter on recognizing and solving behavioral problems and introduces Norwich lovers to the exciting world of competitive pure-bred dog sports.
The Welsh Terrier Training Book is a truly informative and unique training guide, full of reliable and tested information - written for the admirers of this wonderful breed. This is an easy-to-read, and in-depth text which you will thoroughly enjoy. It contains a wealth of interesting facts and reliable information, along with detailed advice for owners. Contributed to by a series of Welsh Terrier dog trainers, this book is certainly a must have addition to your collection.
A true breed classic, this book will feed Welsh Terrier enthusiasts in-depth information about this much-loved Terrier. This dog reflects the country of its origin with its determination and quirky personality. Bardi, a leading authority on Welsh Terriers, examines all the joys of owning Welsh, including a history of the breed, prominent kennels, and an in-depth look at the personality of this breed.
A Coloring Book by Maggie Ross Dogs that brings you 22 images of Airedale, Welsh, Irish and Lakeland Terriers to color! The designs, created from my original artworks, are printed one side only, with full color examples at the beginning of the book. Varied images for adults and even older children who love to color. Whether you prefer to use colored pencils, markers or paint, take this opportunity to concentrate, relax, reduce stress and enjoy choosing the color for each image.
No Info Available at The Moment
No Info Available at The Moment
The Welsh Terrier - A Complete Anthology of the Dog gathers together all the best early writing on the breed from our library of scarce, out-of-print antiquarian books and documents and reprints it in a quality, modern edition. This anthology includes chapters taken from a comprehensive range of books, many of them now rare and much sought-after works, all of them written by renowned breed experts of their day. These books are treasure troves of information about the breed - The physical points, temperaments, and special abilities are given; celebrated dogs are discussed and pictured; and the history of the breed and pedigrees of famous champions are also provided. The contents were well illustrated with numerous photographs of leading and famous dogs of that era and these are all reproduced to the highest quality. Books used include: My Dog And I by H. W. Huntington (1897), The Show Dog by H. W. Huntington (1901), Hutchinson's Dog Encyclopaedia by Walter Hutchinson (1935) and many others.
Finally, I present an eBook dedicated specifically to lovers of Welsh Terrier.

It's not your fault that your Welsh Terrier has little obedience. The problem is that very little information is targeted specifically for training Welsh Terrier; they are a strong willed breed that can be tough to train if you don't have any guidance.

The eBook "Welsh Terrier Training Secrets" covers everything you need to know about Welsh Terrier. Unlike those generic Books about dogs you find in pet stores, libraries or even online.

Actually, it is unlike any other eBook I have seen.

In this ebook you will find all sorts of useful tips ... from how to know and understand the psychology of a Welsh Terrier, to making him obey you and stop using the house as a bathroom, to controlling him the right way and making him stay and heel
---