English Bulldog (British Bulldog, Bulldog) Books
English Bulldog
Search for Dog Breed Books
Select Dog Breed
English Bulldogs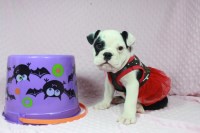 The Bulldog Handbook is the No.1 bestselling information book on Bulldogs. It's packed full of up-to-date details & makes a great gift for any Bulldog lover.
There are more than 200 registered Kennel Club breeds & all are different – but there's something extra special about the Bulldog. The distinguished, wrinkled head & powerful body are unmistakable - & despite his rugged exterior, the Bulldog is a sheep in wolf's clothing. He is gentle & placid, loves children & being part of the family; he makes you laugh & is extremely affectionate.
But there is a price to pay for owning one of these rewarding dogs with the giant personality. More than any other breed, the Bulldog requires a special kind of owner - one prepared to give the extra care he needs for a happy life. Bulldogs aren't like other dogs; they have certain sensitivities & specialised needs. They can have health issues & be expensive to keep, so anyone thinking of owning one should do so with their eyes wide open.
If you have got or are thinking of getting one of these striking dogs, then this is the only reference book you will ever need - & it makes a great gift for any Bulldog fan. This hefty manual is full of invaluable insight as it guides you through the pitfalls & highlights of Bulldog ownership. Written by specialist canine author Linda Whitwam,
The Bulldog Handbook
provides answers to many frequently-asked questions from owners, including:
How to pick the right breeder - & the ones to avoid
Bringing home a new puppy
Housetraining & crate training
Exercise and basic obedience training – & how NOT to do it with a Bulldog
Bulldog temperament, typical traits & behaviour
What to feed, how much, how often & the raw diet
Feeding charts for puppies, adults & seniors
How long you can leave a Bulldog alone and dealing with separation anxiety
Grooming & personal care
Whether & when to spay or neuter
Bulldog allergies & skin conditions
Bulldog rescue & what adoption involves
It's packed full of advice you won't find elsewhere, like:
12 Tips for Choosing a Healthy Bulldog Puppy
14 Tips for Training your Bulldog
16 Bulldog Feeding Tips
14 Tips to Avoid Separation Anxiety
14 Tips to prevent a Bulldog Overheating
The Handbook covers Bulldog health in detail & how to tell if all is not well. You might not know it, but your dog CAN talk to you. A change in behaviour or habits can be a sign of something amiss. Learn to spot The 13 Signs of a Healthy Bulldog and The 5 Vital Signs of Illness. Taking swift action can improve your Bulldog's chances of a good outcome and if you're lucky, you can even prevent a chronic condition & save a fortune in vets' bills.
There's also feeding charts for puppies, adults & seniors, info on behaviour & character traits, true stories & a Bulldog quiz. Too many Bullies end up in rescue centres or living short lives. Choosing the right one & knowing how to properly care for him is the best way of ensuring many years of joy with this handsome, lovable & extremely rewarding breed.
Reviews for
The Bulldog Handbook
:
"Remarkable book - very informative and comprehensive. It is not to be missed, even seasoned bulldoggers could stand to learn a few things from this book," W. SHOPLAND, of EXTREMEBULLS, MIDDLESEX, UK
" Well written guide for the new bulldog owner. Covers things most people don't think about when deciding on the right breed and when purchasing a bulldog puppy. A must have for the new bulldog owner, whether pet or show bound,"
K. JACOBSEN, of RELYABULL BULLDOGS, NEW JERSEY, USA
"Looking for the definitive bulldog handbook? Then here it is. Linda Whitwam has produced an 'everything you need to know' book. Highly recommended," S HANSON, of WEST YORKSHIRE, UK
Find out how to select, train, and care for your Bulldog

Though originally bred for bull baiting, today's Bulldogs are calm, dignified, and courageous - and make great pets. Whether you're already a Bulldog owner or you're thinking about becoming one, this friendly guide will answer your questions and help you and your Bully live happily ever after. From choosing your dog to training, diet, and health, it's just what you need for Bulldog success!

Discover how to
* Understand the breed and its history
* Buy or adopt a healthy Bulldog
* Housetrain your Bulldog and teach basic commands
* Keep your Bulldog well-groomed and active
* Watch for breed-specific health problems
Although originally bred for the now-outlawed sport of bull baiting, today's bulldog is typically mild tempered and a loyal household companion. This book is a brand-new title in Barron's extensive line of Complete Pet Owner's Manuals. They advise current and soon-to-be pet owners on the care of dogs and cats of virtually all recognized breeds, as well as on birds, reptiles, amphibians, fish, small mammals, and even exotic creatures like tarantulas and sugar gliders. The information in each book is authoritative but the language is non-technical and easy for every pet owner to understand. Every title in this series is individually written from first page to last by a breeder, trainer, veterinarian, or other animal specialist. All Complete Pet Owner's Manuals are filled with high-quality color photos and instructive line art.
Written by a professional dog whisperer and dog owner, The English Bulldog Complete Owners Manual has the answers you may need when researching this muscular, medium-sized, short-nosed canine that would not exist but for the intervention of humankind. Learn about this iconic, friendly and loyal canine and find out whether or not this shedding snuffling, snoring, stocky dog will be the best choice for you and your family. It is important to gather as much information as possible before you take the plunge to share your home with a fur friend. Learn everything there is to know, including little known facts and secrets, and how to care for every aspect of your English Bulldog's life. This manual contains all the information you need, from birth to the Rainbow Bridge, including transitioning through house breaking, care, feeding, training and end of life, so that you can make a well-informed decision about whether or not the English Bulldog is the breed for you. If you already have a English Bulldog, this book will teach you everything you need to know to make your dog a happy dog and to make you a happy dog owner. The author George Hoppendale is an experienced writer and a true animal lover. He enjoys writing animal books and advising others how to take care of their animals to give them a happy home. Co-Author Asia Moore is a professional Dog Whisperer, Cynologist and Author, living on Vancouver Island, off the west coast of British Columbia, in Canada, who believes that all humans and dogs can live together in harmony. She and her dog whispering team, which includes an 8-year-old Shih Tzu named Boris, teach dog psychology to humans, to help alleviate problem behaviors that arise between humans and their canine counterparts so that everyone can live a happy and stress-free life together. Covered in this book: - Breeding - Temperament - Vital statistics - Before you buy - Choosing the right dog - Health - Daily care - Feeding - House training - Medical care & safety - Grooming - Training - Poisonous Foods & Plants - Caring for your aging dog .... and much more.
Adorable and intelligent, bulldogs eagerly perform scores of tasks for their owners. This charming book provides 101 photographic-proof examples of how bulldogs happily help out as as garbage disposals, alarm clocks, lawn fertilizers, gatekeepers and more! This is the eighth edition in Willow Creek's popular "101 Uses" series.
Your Bulldog Puppy Month by Month, written by a veterinarian, a trainer, and a breeder team, provides readers with everything they need to know and do at each stage of development to make sure their playful, energetic puppy grows into a happy, healthy, and well-adjusted companion. Coverage includes:
   • Information on what to ask the breeder before bringing your puppy home, the necessary vaccinations your puppy needs and when to get them, and when a trip to the vet is needed.
   • Instructions on making potty training as smooth (and quick) as possible.
   • Discussion on why and how to crate train and what to do when your puppy cries at night.
   • Knowing when to teach your puppy is ready to learn basic commands and how to go about leash training.
   • Socialization: why it's necessary, when it should happen, and how to make sure it does.
   • Exercising and feeding your puppy appropriately to ensure he stays physically and mentally healthy.
   • When your puppy is ready for obedience training and how to make sure it works.
   • How and how often to bathe your puppy, brush his coat, clip his nails, and brush his teeth.
   • What causes problem behaviors, when to expect them, and how to correct them.
Is your beloved pet an English Bulldog? Then this coloring book is for you! It features various, cutesy, will-make-you-smile line images of English Bulldogs for you to color. As in our other coloring books, we also include interesting and cool facts about the breed for you to color as well! The Dog Lovers Coloring Book Featuring English Bulldogs is both for kids and the young-at-heart. Have fun and enjoy!
English Bulldog, English Bulldog Dog Training: Think Like a Dog, But Don't Eat Your Poop! Special Inside: What every new English Bulldog owner MUST know before you... "just-start-training"! Vitally important and begining with the car ride home. English Bulldog training system: Fastest Way to No More English Bulldog Poop! For both new and seasoned English Bulldog owners, whether a puppy, or adult English Bulldog. Just open it up and read simple, clear, step by step English Bulldog, dog training techniques and commands and start training your English Bulldog in hour one. [NOW!] English Bulldog Breed Expert Step by Step Guide for rapid command adoption, learning and doing. This is EXACTLY How to train your English Bulldog puppy, and English Bulldog adult dog too, while using English Bulldog specifically designed dog training methods, made to be simple, fun, fast and effective to train and adopt for both you and your English Bulldog.. English Bulldog Training specifically geared towards your English Bulldog. breed, we created the Rapid Command Adoption English Bulldog training system. We are sincere and caring when considering the importance of delivering a best of breed specific English Bulldog puppy and dog training system. We are serious about the information you need, the steps you will take, and the results you both deserve when you act today and for a long term, healthy and happy life together. So serious in fact, I managed to pepper in a wee bit of humor along the way. There is design and reasoning behind my terrible one-liners too. You see, a major secret to your English Bulldog puppy training success includes and certainly depends on your happiness, attention, attitude, approach, and type of command delivery you give. It's an easy philosophy too; the more you have fun, the better responses you will get, and the better experience your English Bulldog will have too. You can secure your outcome simply by choosing right now to put our cutting edge, Breed Specific English Bulldog Training eBook System to work with your dog now, and start seeing positive dog obedience results immediately using our Rapid Command Adoption English Bulldog training system. . English Bulldog puppies and adult dogs can enjoy rapid dog-training results. Our purpose is to offer you and your new puppy or dog, the best possible English Bulldog results-getting-dog-training-system. We are serious about your results, and you might have some fun during the process of training you English Bulldog using our new and improved English Bulldog Breed Specific dog training system. Here's exactly how to train your English Bulldog puppy and adult dogs too. It's all laid out for you right now in an exacting, yet simple, fun, short, fast, and highly effective dog training guide for English Bulldogs. Title says it all. Think Like a Dog, but don't eat your poop! Paws on, Paws off; How to Train Your English Bulldog? Go ahead download it we guarantee our trainings material. Who knows right? You may just have a laugh while teaching your dog rapid command adoption. Enjoy! Thanks for reading, my family is grateful, and we sincerely appreciate your business, Paul Allen Pearce Author, Trainer, Dog Lover of the English Bulldog English Bulldog,English Bulldog training,potty training tips for English Bulldog,English Bulldog puppy training, English Bulldog information,to train my English Bulldog, crate train my English Bulldog, train my English Bulldog, P.S. Remember To: "Think Like a Dog ~ But Don't Eat Your Poop! While Training Your English Bulldog"
This
BullDogs in Magical Land Coloring Book
the perfect way to relieve stress and aid relaxation while enjoying beautiful and highly detailed images. Product Details:
Printed single sided on bright white paper
Premium matte cover finish
Large format 8.5" x 11.0" pages
---