Labrador Retriever (Lab) Books
Labrador Retriever
Search for Dog Breed Books
Select Dog Breed
Labrador Retrievers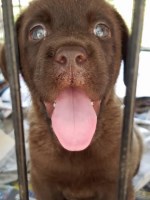 Your Labrador Retriever Puppy Month by Month, Second Edition, provides new puppy owners with everything you need to know and do at each stage of development to make sure your playful, energetic puppy grows into a happy, healthy, and well-adjusted companion. Expert authors Terry Albert, vet Deb Eldredge, and breeder Joanne Olivier team up to cover all the questions new owners tend to have and may not think to ask, including:

   • What to ask the breeder before bringing your puppy home.
   • Which vaccinations your puppy needs and when to get them.
   • How to make potty training as smooth (and quick) as possible.
   • What do to when your puppy cries at night.
   • Why and how to crate train your puppy.
   • When socialization should happen and how to make sure it does.
   • When your puppy is ready to learn basic commands—like Sit, Stay, and Come—and the best way to teach them.
   • When and how to go about leash training.
   • How much exercise your puppy needs to stay physically and mentally healthy.
   • What, how much, and when to feed your puppy to give him the nutrition he needs without the extra weight he doesn't.
   • When your puppy is ready for obedience training and how to make sure it works.
   • How and how often to bath your puppy, brush his coat, clip his nails, and brush his teeth.
   • How to know what requires a trip to the vet and what doesn't.
   • What causes problem behaviors, when to expect them, and how to correct them.
According to the American Kennel Club, the Labrador retriever has been rated as the most popular purebred dog in America for thirteen consecutive years. In fact, nearly three times as many Labs were registered in 2002 than any other breed. The Everything Labrador Retriever Book is the perfect introduction to America's most popular pet.

Written by dog expert Kim Campbell Thornton, The Everything Labrador Retriever Book is packed with professional, breed-specific advice that helps readers raise, care for, and train their Lab safely and successfully. Packed full of photos showing Labs in action, The Everything Labrador Retriever Book is perfect for new and seasoned dog owners!
Each title in Barron's brand-new Dog Bibles Series for dog lovers and prospective dog purchasers discusses a specific dog breed in detail, describes the title breed's physical traits, history, and behavior characteristics, and instructs owners on training methods. Important topics covered include?


What to look for when choosing a puppy
Living with a dog and understanding breed-specific traits
Everyday care, grooming and exercise
Nutrition, health maintenance, and potential breed-specific health problems
Training and play activities

Extra features include sidebars with breed facts and helpful hints, quick tips on training, and 150-to-200 attractive color photos. A hidden spiral binding ensures that the book will stay open and flat at any desired page. A DVD is enclosed with each book. It presents an informal dog training course for new owners, describing methods for house training, walking dogs on a leash, and teaching obedience to hand signals and vocal commands.
Are you tired of your puppy leaving "messes" all over the house? What about the biting and chewing? Does your dog drag you down the street when you try and take him/her for a walk? Do you want to teach your new puppy how to sit, stay, or play fetch?
This book can help you with it all!
Everything you need to know about Labrador Retriever training and basic obedience.
This book is guaranteed to answer any beginner's questions about training your Labrador Retriever and is a must have for anyone thinking of getting a Labrador Retriever puppy.
Here Is A Preview Of What You'll Learn...
Is a Labrador Retriever Right For You?
How Much Is Enough Exercise?
How To Speak Your Dog's Language
Effective Discipline
How to Potty Train Your Labrador Retriever
Basic Obedience Training Such As: Sit, Drop, Come, Fetch, Stay, and Wait
Leash Training Your Labrador Retriever Puppy
Socialization Training
How to Stop the Biting and Chewing
and Advanced Training Techniques

This is a must have guide for all Labrador Retriever puppy owners and individuals who are thinking of getting a Labrador Retriever puppy.

Get your copy today and get one step closer to that perfect dog you've always dreamed about!
Discover a whole new world of dogs with this revolutionary, breed-specific guide accompanied by a free DVD. Labrador Retrievers are the most popular dog breed in the US. What makes these dogs so popular? Discover how to bring out the best in these friendly, versatile dogs.
Labrador Retriever
How To Train Your Labrador Retriever Puppy - Discover The Ultimate Training Techniques For Your Labrador Retriever!
Labrador puppies are absolutely adorable, and even more so when they learn to behave appropriately. But, training a puppy takes a bit of work, and if you're a new dog owner, where do you even start? There's potty training, biting, walking, coming when called – it's like having a toddler in the house! But fear not – in this book you will find all the techniques you need to train your Labrador to be the best behaved puppy around. You want to make sure that your visitors don't get assaulted by an over-energetic puppy, or that you don't step in something unpleasant on the living room floor and this book will help you with both of those problems. But you will also learn the best way to treat and reward your puppy – necessary methods for training your puppy and helping you both form an unbreakable bond.
Here is a preview of what you'll learn:
Potty Training Your Puppy
Controlling Biting
Calling Your Puppy
Pulling On A Lead
Training Your Puppy to Sit
Treats and Rewards for Your Labrador Puppy
Ashton Matthew's book, Labrador Retriever Training: The Ultimate Guide to Training Your Labrador Retriever at Any Age provides you with everything you need to train your Labrador Retriever at any age. This book includes sit, stay, drop, fetch, potty training, leash training and socialization training.
Labrador Retriever, Labrador Retriever Dog Training: Think Like a Dog, But Don't Eat Your Poop! Labrador Retriever training system: Fastest Way to No More Labrador Retriever Poop! For both new and seasoned Labrador Retriever owners, whether a puppy, or adult Labrador Retriever. Just open it up and read simple, clear, step by step Labrador Retriever, dog training techniques and commands and start training your Labrador Retriever in hour one. [NOW!] Labrador Retriever Breed Expert Step by Step Guide for rapid command adoption, learning and doing. This is EXACTLY How to train your Labrador Retriever puppy, and Labrador Retriever adult dog too, while using Labrador Retriever specifically designed dog training methods, made to be simple, fun, fast and effective to train and adopt for both you and your Labrador Retriever.. Labrador Retriever Training specifically geared towards your Labrador Retriever. breed, we created the Rapid Command Adoption Labrador Retriever training system. We are sincere and caring when considering the importance of delivering a best of breed specific Labrador Retriever puppy and dog training system. We are serious about the information you need, the steps you will take, and the results you both deserve when you act today and for a long term, healthy and happy life together. So serious in fact, I managed to pepper in a wee bit of humor along the way. There is design and reasoning behind my terrible one-liners too. You see, a major secret to your Labrador Retriever puppy training success includes and certainly depends on your happiness, attention, attitude, approach, and type of command delivery you give. It's an easy philosophy too; the more you have fun, the better responses you will get, and the better experience your Labrador Retriever will have too. You can secure your outcome simply by choosing right now to put our cutting edge, Breed Specific Labrador Retriever Training eBook System to work with your dog now, and start seeing positive dog obedience results immediately using our Rapid Command Adoption Labrador Retriever training system. . Labrador Retriever puppies and adult dogs can enjoy rapid dog-training results. Our purpose is to offer you and your new puppy or dog, the best possible Labrador Retriever results-getting-dog-training-system. We are serious about your results, and you might have some fun during the process of training you Labrador Retriever using our new and improved Labrador Retriever Breed Specific dog training system. Here's exactly how to train your Labrador Retriever puppy and adult dogs too. It's all laid out for you right now in an exacting, yet simple, fun, short, fast, and highly effective dog training guide for Labrador Retrievers. Title says it all. Think Like a Dog, but don't eat your poop! Paws on, Paws off; How to Train Your Labrador Retriever? Go ahead download it we guarantee our trainings material. Who knows right? You may just have a laugh while teaching your dog rapid command adoption. Enjoy! Thanks for reading, my family is grateful, and we sincerely appreciate your business, Paul Allen Pearce Author, Trainer, Dog Lover of the Labrador Retriever Labrador Retriever, Labrador Retriever training, potty training tips for Labrador Retriever puppy training, Labrador Retriever information, to train my Labrador Retriever training guide eBook, crate train my Labrador Retriever Breed, train my Labrador Retriever, Labrador Retriever P.S. - Remember to always "Think Like a Dog ~ But Don't Eat Your Poop!" - While Training Your Labrador Retriever
---