2018 French Bulldog Calendars
French Bulldog
Search for Calendars
Select Dog Breed
French Bulldogs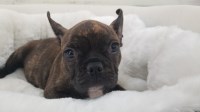 Cuddly "Frenchie" pups for each month of the year! This large format wall calendar features grids with ample room for jotting notes and begins with six bonus months of July through December of 2017. Also included are moon phases (CST), along with U.S. and international holidays.
-Frenchie- owners are drawn to these dogs for the gentle and carefree spirit. These 12 bright and detailed photographs capture all the charming traits and characteristics of this wonderful breed. The large format features big daily grids with ample room for jotting reminders. Also included are six bonus months of July through December 2017, moon phases and U.S. and international holidays.
The French Bulldog is recognizable from its bat ears and smushy face. He is affectionate, well-behaved, and adaptable. He is a great companion and basically, just completely irresistible! That's why the French Bulldog is one of the most popular dog breeds in America. Founded in 1884, the American Kennel Club is the most well-known registry of pure-bread dogs in America. The AKC advocates for the purebred dog as a family companion, advances canine health and well-being, works to protect the rights of all dog owners and promotes responsible dog ownership. American Kennel Club French Bulldogs 2018 features bright beautiful images with information about French Bulldogs every month. Spacious grids provide lots of writing space, international holidays and moon phases. There are sections at the back of the calendar for emergency contact information and birthdays/anniversaries and a full-page 3-year at-a-glance. Earth friendly, printed with soya-based inks on FSC certified paper.
The best selection of Dog Breed Calendars from the finest photographers on the planet!

The thirteen 12x12 photos of the French Bulldog Calendar 2018 captures the affectionate and alert nature of these dogs. Below the pictures, you will find an open grid format ideal for entering your schedule and other important events. This calendars is printed on high quality paper, and makes a great addition to any wall in your home or office.
Fill your upcoming 2018, with 16 months of French Bulldogs all year round. This beautiful mini calendar contains 16 months and 3 mini 2017, 2018, and 2019 year calendars.
Small and sturdy, French Bulldogs are sweet, mild-mannered animals. Though they are known to be jokesters, these dogs are alert and remarkably intelligent. They are excellent watchdogs, and their sense of humor and affectionate nature make them loving companions. With distinctive bat ears, French Bulldogs come in a variety of colors, as shown in this wonderful square wall calendar. Includes a free download of the DogDays app for the smartphone and tablet, which grants access to the worlds most captivating dog photos and backgrounds, fun puzzles, and a calendar featuring your favorite furry friends.
    &nbsp    &nbsp2018-2019 Weekly Planner for Dog lovers - French Bulldog (Bull Dog) lovers in particular!
    &nbspAdorable Most Wanted French Bulldog (Bull Dog) image graces the cover of this cute engagement calendar.
    &nbspPopular easy to use planner format shows a week-at-a-view to help keep you organized 7 days at a time.
  &nbspCalendar/planner covers 16 months (January 2018 -- April 2019). Helpful for anyone wanting to take charge of their time and manage their activities in 2018 and into 2019. Perfect for students and business people alike.
    &nbspGreat for keeping track of all your business and social engagements for the next 16 months.
  &nbspPages in the front provide full years calendar and space for recording phone numbers and passwords
    &nbspNice Large A4-letter size (11 X 8.5-Inches) format for plenty of room to write your stuff.
    &nbspSoftback binding opens flat for ease of use.
  &nbspWe think you'll find this a fantastic time management tool for home, school, office, or anytime when you're on the fly and need to schedule!
  &nbspMakes planning and scheduling a breeze!
Fill your upcoming 2018, with 16 months of French Bulldogs weekly calendar planner. Plan out a year in advance.
---