German Shepherd Dog (GSD, Alsatian) Books
German Shepherd Dog
Search for Dog Breed Books
Select Dog Breed
German Shepherd Dogs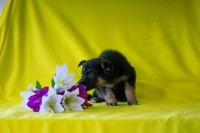 Barron's Training Your Dog titles offer breed-specific advice on virtually every aspect of canine training, including housebreaking, obedience to basic verbal commands and hand signals, retrieving, and walking the dog on a leash. These books also discuss humane methods for breaking a dog's bad habits. The German Shepherd is intelligent and a quick learner, which makes him highly trainable. However, training of this fine dog should begin early in life. German Shepherds are best suited to owners who are calmly authoritative and consistent in their training methods.
Your German Shepherd Puppy Month by Month, Second Edition, provides readers with everything they need to know and do at each stage of development to make sure their playful, energetic puppy grows into a happy, healthy, and well-adjusted companion. Expert authors Liz Palika, vet Deb Eldredge, and breeder Joanne Olivier team up to cover all the questions new owners tend to have, and many they don't think to ask, including:

   • What to ask the breeder before bringing your puppy home.
   • Which vaccinations your puppy needs and when to get them.
   • How to make potty training as smooth (and quick) as possible.
   • What do to when your puppy cries at night.
   • Why and how to crate train your puppy.
   • When socialization should happen and how to make sure it does.
   • When your puppy is ready to learn basic commands—like Sit, Stay, and Come—and the best way to teach them.
   • When and how to go about leash training.
   • How much exercise your puppy needs to stay physically and mentally healthy.
   • What, how much, and when to feed your puppy to give him the nutrition he needs without the extra weight he doesn't.
   • When your puppy is ready for obedience training and how to make sure it works.
   • How and how often to bath your puppy, brush his coat, clip his nails, and brush his teeth.
   • How to know what requires a trip to the vet and what doesn't.
   • What causes problem behaviors, when to expect them, and how to correct them.
Discover a whole new world of dogs with this revolutionary, breed-specific guide accompanied by a free DVD. German Shepherds are known for their loyalty and versatility. Learn why it is so important to properly train these dogs and exactly how to keep them happy and healthy.
Veterinarian-approved advice and information is emphasized in Barron's Dog Bibles series. Written mainly for first-time owners, these books advise readers on physical and behavioral characteristics they should look for when choosing a puppy. Each book focuses on a specific canine breed, describing the title breed's traits, history, behavior characteristics, and recommended training methods, with information on how breed-specific traits influence the relationship between dog and owner. Also described are potential breed-specific health problems owners should look out for. Attractive sidebars present fun facts, breed truths, and helpful hints. A hidden spiral binding ensures that the book will stay open and flat at any desired page. The DVD enclosed with each book presents an informal dog training course for new owners. Each book is filled with attractive color photos. Among the most intelligent of all dogs, German Shepherds are the subjects of this book. They are quick learners, and they readily respond to carefully structured obedience training.
German Shepherd
How To Train A German Shepherd - Learn Amazing Tips, Tricks And Techniques To Train Your German Shepherd Puppy!
Do you want to have a well-mannered German Shepherd? German Shepherds have a wonderful reputation for being capable, smart, working dogs. You might assume that your German Shepherd puppy will be easy to train. But that isn't always the case. Each pup is individual, and some may need different approaches than others. Training German Shepherds is a challenge just because they ARE so intelligent. Sometimes smart dogs are dominant, and you need to bend your pup to your will, so he knows you're the boss, without being rough with him. If you have selected a puppy with a stable temperament, he will be quite trainable, and the training process can even be enjoyable. The way you train depends on his personality and temperament, and you need to adapt your training skills to him. That's where your personality and persistence come in. Especially if you're starting with a puppy, you can use this book to help you attain a well-behaved, well-mannered dog. You will be drawing on the experience of many professional trainers and canine psychologists who will offer you valuable tips and tricks for training your German Shepherd puppy.

German Shepherds - Dog Books for Kids Amazing Animal Books For Young Readers Bestselling author John Davidson presents "German Shepherds - Dog Books for Kids". Beautiful Pictures and easy reading format will help children fall in love with Dogs. This is one of over 50 books in the Amazing Animal Books for Young Readers Series. The pictures look great even in black and white and are excellent on the full color. Lots of facts and photos will help your children learn about this wonderful animal. Children are given a well-rounded understanding of this beautiful animal: its anatomy, feeding habits and behavior. *** You and your kids will love learning about Dogs*** Table of Contents Introduction Chapter 1 Early History Chapter 2 Fascinating Features & Care Chapter 3 Amazing German Shepherd's facts Conclusion Man's best friend Author Bio Introduction German Shepherds are intelligent, versatile and faithful dogs. They have outstanding characteristics, and excel in almost anything they do. This breed is well known and among the 10 most popular breeds in the U.S. But, what makes them so popular? To begin with, their skills extend beyond the home. They are used in law enforcement, serving with police and even the military. They also help with special needs. For example: With those who are handicapped and require constant attention. However, their skills do not end there. Does the name Rin-Tin-Tin ring a bell? He was quite famous and appeared in many movies and shows. He was so popular he received hundreds of fan letters, sometimes thousands per week! And after the World Trade Center disaster, faithful German shepherd dogs risked their lives to comfort rescue workers and help find those who were missing. German shepherds are also excellent watchdogs. Their alert and often suspicious nature, can serve to protect both you and your family from strangers. However, this aspect of their personality may not appeal to you, if you are looking for a more guest friendly dog. This breed has a high energy level. Originally when this dog was first bred, it was for working purposes. The idea was to help herd flocks, get them into groups and so on. This all day task helped to shape a strong and high energy dog that requires a lot of activities to keep their attention. It is important to take note of this part of their personality. Why? Well, if they do not get the attention they need their boredom (even frustration) will shine through, with lots of barking and chewing. Depending on how loud it gets, it may drive you up the wall! Despite this aspect of their personality, there is no doubt German Shepherds are amazing dogs, and a wonderful asset to any home. And with proper training and loving attention, they will stand by you through thick and thin. Not a bad description to add to the list of… man's best friend!
German Shepherd
The Complete Guide To Raising Your German Shepherd Puppy, Plus Potty, Obedience And Crate Training
Did you just get a German Shepard Puppy that you need to train? Or, are you thinking about getting a German Shepard Puppy but you need to first learn about what the training process might entail? There is even a chance you already have a German Shepard Puppy and you've attempted to train it but it just isn't going like you'd hoped it would. If you answered "yes" to any of these questions, then this book is the book for you! With the easy to understand information and the clear, straight forward instructions, this book can teach you everything you need to know about training a German Shepard puppy! Furthermore, this book is written with any and all concerns and frustrations you might be feeling, in mind and will help you to solve any problems you might be experiencing!

This rugged and noble breed is ideal as both a work dog and a family companion. Here is everything its owner needs to know about responsible care. Books in the comprehensive and popular Barron's Complete Pet Owner's Manuals series advise on feeding, health care, housing, and all other important aspects of responsible pet ownership. Each title is individually written from first page to last by a pet trainer, veterinarian, or other pet-care specialist. All Complete Pet Owner's Manuals are filled with high-quality photos and instructive line art.
German Shepherd
The Complete Guide To Training Your German Shepherd Puppy - Obedience, Potty, And Crate Training!
Puppies. One of the most adorable things on this planet, and something that everyone should have at least once in their life. But, along with all of that cuteness comes something a lot of people overlook. Something that is incredibly important, and something that you will need to do if you want a puppy that grows up into your best friend. And that something is training. German shepherds are beautiful dogs that are both highly intelligent and have a lot of energy. They are excellent companion animals when they are brought up right, and they are one of the best breeds you could imagine for a fun and active lifestyle. But, the only way you will get the dog of your dreams is if you take the time to bring them up properly, and that requires training. No puppy is perfect, and all puppies require a level of obedience training, love, and discipline. That is where this book comes in. In it, you are going to learn everything you need to do to turn your new pup into a well behaved dog you can take anywhere. A dog you can trust to listen to you, and a dog you know is going to be there when you want them to be.
Learn training techniques that are proven to work
Train yourself how to train for the most effective obedience
Have fun with your dog during the process
Learn how to turn your pup into the obedient and loving dog you have always wanted
Save your house from stains, ripped furniture, and other puppy accidents
---