German Shepherd Dog (GSD, Alsatian) Books
German Shepherd Dog
Search for Dog Breed Books
Select Dog Breed
German Shepherd Dogs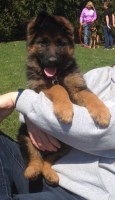 Barron's Training Your Dog titles offer breed-specific advice on virtually every aspect of canine training, including housebreaking, obedience to basic verbal commands and hand signals, retrieving, and walking the dog on a leash. These books also discuss humane methods for breaking a dog's bad habits. The German Shepherd is intelligent and a quick learner, which makes him highly trainable. However, training of this fine dog should begin early in life. German Shepherds are best suited to owners who are calmly authoritative and consistent in their training methods.
This rugged and noble breed is ideal as both a work dog and a family companion. Here is everything its owner needs to know about responsible care. Books in the comprehensive and popular Barron's Complete Pet Owner's Manuals series advise on feeding, health care, housing, and all other important aspects of responsible pet ownership. Each title is individually written from first page to last by a pet trainer, veterinarian, or other pet-care specialist. All Complete Pet Owner's Manuals are filled with high-quality photos and instructive line art.
German Shepherds - Dog Books for Kids Amazing Animal Books For Young Readers Bestselling author John Davidson presents "German Shepherds - Dog Books for Kids". Beautiful Pictures and easy reading format will help children fall in love with Dogs. This is one of over 50 books in the Amazing Animal Books for Young Readers Series. The pictures look great even in black and white and are excellent on the full color. Lots of facts and photos will help your children learn about this wonderful animal. Children are given a well-rounded understanding of this beautiful animal: its anatomy, feeding habits and behavior. *** You and your kids will love learning about Dogs*** Table of Contents Introduction Chapter 1 Early History Chapter 2 Fascinating Features & Care Chapter 3 Amazing German Shepherd's facts Conclusion Man's best friend Author Bio Introduction German Shepherds are intelligent, versatile and faithful dogs. They have outstanding characteristics, and excel in almost anything they do. This breed is well known and among the 10 most popular breeds in the U.S. But, what makes them so popular? To begin with, their skills extend beyond the home. They are used in law enforcement, serving with police and even the military. They also help with special needs. For example: With those who are handicapped and require constant attention. However, their skills do not end there. Does the name Rin-Tin-Tin ring a bell? He was quite famous and appeared in many movies and shows. He was so popular he received hundreds of fan letters, sometimes thousands per week! And after the World Trade Center disaster, faithful German shepherd dogs risked their lives to comfort rescue workers and help find those who were missing. German shepherds are also excellent watchdogs. Their alert and often suspicious nature, can serve to protect both you and your family from strangers. However, this aspect of their personality may not appeal to you, if you are looking for a more guest friendly dog. This breed has a high energy level. Originally when this dog was first bred, it was for working purposes. The idea was to help herd flocks, get them into groups and so on. This all day task helped to shape a strong and high energy dog that requires a lot of activities to keep their attention. It is important to take note of this part of their personality. Why? Well, if they do not get the attention they need their boredom (even frustration) will shine through, with lots of barking and chewing. Depending on how loud it gets, it may drive you up the wall! Despite this aspect of their personality, there is no doubt German Shepherds are amazing dogs, and a wonderful asset to any home. And with proper training and loving attention, they will stand by you through thick and thin. Not a bad description to add to the list of… man's best friend!
Dedicated to the world's most accomplished working dog, respected guard dog, and beloved family companion, the German Shepherd Dog, this Smart Owner's Guide, created by the editors at Dog Fancy magazine, offers the most up-to-date and accurate information every dog owner needs to become a well-informed caregiver for his dog. Illustrated with color photographs of adorable puppies and handsome adults, this easy-to-read primer is designed in a modern, lively manner that readers will find user-friendly and entertaining.

Each Smart Owner's Guide offers a description of the breed's character and physical conformation, historical overview, and its attributes as a companion dog. The reader will find informative chapters on everything he or she needs to know about acquiring, raising, and training this remarkable purebred dog, including: finding a breeder and selecting a healthy, sound puppy; preparing for the puppy's homecoming, shopping for supplies, and puppy-proofing the home; house-training; veterinary and home health maintenance; feeding and nutrition; and grooming. Obedience training for basic cues (sit, stay, heel, come, etc.) and solving potential problem behaviors (barking, chewing, aggression, jumping up, etc.) are addressed in separate chapters, as are activities to enjoy with the dog, including showing, agility, therapy work, and more.

Entertaining tidbits and smart advice fill up colorful sidebars in every chapter, which the editors call ?It's a Fact," ?Smart Tip," ?Notable & Quotable," and ?Did You Know?" Real-life heroes and rescue stories are retold in full-page features called ?Pop Pups" and ?True Tails." Recipes, training, and care tips are highlighted in the ?Try This" feature pages.

The Smart Owner's Guide series is the only series that offers readers an online component in which dog owners can join a breed-specific online club hosted by dogchannel.com. At Club GSD, owners of the breed can find forums, blogs, and profiles to connect with other breed owners, as well as charts and checklists that can be downloaded. More than just 20,000 pages of solid information, there's a host of fun to be had at the club in the form of downloadable breed-specific e-cards, screensavers, games, and quizzes.

The Resources section of the book includes contact information for breed-related organizations and rescues, as well as practical guidance on traveling with dogs, identification, and locating qualified professionals to assist the dog owner, such as pet sitters, trainers, and boarding facilities. This information-packed Smart Owner's Guide is fully indexed.

German Shepherd
How To Train A German Shepherd - Learn Amazing Tips, Tricks And Techniques To Train Your German Shepherd Puppy!
Do you want to have a well-mannered German Shepherd? German Shepherds have a wonderful reputation for being capable, smart, working dogs. You might assume that your German Shepherd puppy will be easy to train. But that isn't always the case. Each pup is individual, and some may need different approaches than others. Training German Shepherds is a challenge just because they ARE so intelligent. Sometimes smart dogs are dominant, and you need to bend your pup to your will, so he knows you're the boss, without being rough with him. If you have selected a puppy with a stable temperament, he will be quite trainable, and the training process can even be enjoyable. The way you train depends on his personality and temperament, and you need to adapt your training skills to him. That's where your personality and persistence come in. Especially if you're starting with a puppy, you can use this book to help you attain a well-behaved, well-mannered dog. You will be drawing on the experience of many professional trainers and canine psychologists who will offer you valuable tips and tricks for training your German Shepherd puppy.

Veterinarian-approved advice and information is emphasized in Barron's Dog Bibles series. Written mainly for first-time owners, these books advise readers on physical and behavioral characteristics they should look for when choosing a puppy. Each book focuses on a specific canine breed, describing the title breed's traits, history, behavior characteristics, and recommended training methods, with information on how breed-specific traits influence the relationship between dog and owner. Also described are potential breed-specific health problems owners should look out for. Attractive sidebars present fun facts, breed truths, and helpful hints. A hidden spiral binding ensures that the book will stay open and flat at any desired page. The DVD enclosed with each book presents an informal dog training course for new owners. Each book is filled with attractive color photos. Among the most intelligent of all dogs, German Shepherds are the subjects of this book. They are quick learners, and they readily respond to carefully structured obedience training.

Everybody thinks they know the German Shepherd. Many of us grew up with Rin Tin Tin, or we saw German Shepherds in nightly news reports breaking up riots, or we saw them in neighbors' backyards protecting children. But that only scratches the surface of one of the most fascinating and confusing breeds on earth. Whether it's selection, nutrition, routine health care, training, competition, or just having fun, there's more to it with a German Shepherd than with other breeds. And if you're thinking about adding one to your family, or you already have one, you need to know all you can about this breed. Which is where

German Shepherds For Dummies

comes in.

Is this noble and intelligent breed the right dog for you and your family? German Shepherds For Dummies provides the answer to this and all your questions about getting, caring for, and living with this loveable breed. Lifelong German Shepherd owner and longtime German Shepherd breeder, trainer, and exhibitor, Carline Coile, PhD ,gets you up and running with what you need to know to:
Find and communicate with reputable breeders
Choose the right German Shepherd for you
Housebreak and socialize your new puppy
Educate yourself and your dog
Handle behavioral problems
Participate in competitions
Dr. Coile provides insights into the German Shepherd temperament and loads of sensible, easy-to-follow advice, along with fun facts and Shepherd trivia, amusing and informative anecdotes, and tips on how to have a great time with your dog. Discover how to:
Understand how to communicate with your German Shepherd
Train your German Shepherd
Find a good trainer and attend classes
Deal with hereditary health problems
Feed and exercise your German Shepherd
Recognize, prevent and treat common health problems
Have loyal friend for life
The indispensable guide for you and your German Shepherd, German Shepherds For Dummies is the only book you'll need to help you have the best possible experience with this handsome and sensitive breed of dog.
In Tiffany Stacey's German Shepherd Training book, you will learn all the German Shepherd puppy training methods that work! This book is guaranteed to answer any beginner questions about German Shepherd obedience training, how to choose a puppy, potty training, stay, sit, fetch, drop, socialization, how to walk on a leash, it's all here! This German Shepherd training guide is definitely a must have guide for all German Shepherd puppy owners and individuals just thinking of getting a German Shepherd!
Discover a whole new world of dogs with this revolutionary, breed-specific guide accompanied by a free DVD. German Shepherds are known for their loyalty and versatility. Learn why it is so important to properly train these dogs and exactly how to keep them happy and healthy.
---